If what you are looking for, is not in this page, please contact us so we will be able to provide you with the support you need.
Account set up:
You can only set account with us if you are purchasing a product or a service from us. During the check out you will have an option to set your account. We highly advice to select that and setup your account, as in your account dashboard then you will be able to track your order process, change your address or shipping address, add products to your Wishlist for later processing, in addition, all purchased downloadable products will be available in your account in case you lose your download email. Further you will have faster order processing with your future order. You see, there are many benefits to have your account setup so, please setup your account at your first order. (it take just one click) Remember setting up an account with us do not add you automatically to our newsletter so if you want to subscribe to our bimonthly newsletter and get 10% discount on any one of our events, you must check that box too. However, don't worry if you have purchased and forgot to set up your account, you can contact us and provide your order details and we can set an account for you but at this time as it has to be manually it may take time. And for those who do not want to set an account but would like to keep informed about us and latest marketing updates you are welcome to subscribe to our bimonthly newsletter and get 10% discount on any one of our events, and don't worry we don't spam! Read our privacy policy for more info.
How to cancel my order?
Before payment: you can cancel order at any time by click cancel and remove the item from your cart.
eBooks, downloadable items and online courses cannot be cancelled after payment as the files will be sent to you directly.
Events and Workshops tickets: you must let us know 48 hours before the event start time.
Products
When order status is "On hold" you can contact us at any time and cancel order.
When order status is "Processing" you cannot cancel your order after it is shipped. However, you can reject/return the goods after it is delivered to you. (You will get refund when the product is back to the warehouse)
When order status is "Completed" you can send back the item within 7 days to the warehouse as long it is in the original package and unused. (You will get refund when the product is back to the warehouse)
If you haven't received your orders before delivery time is out, or you are not satisfied with the product you received, please contact us for a solution. If that doesn't work, you can apply for a refund before the Buyer Protection has ended. (45-Days buyer protection)
Please do not send the product to the office address. It has to been sent back to the warehouse.
Services
Refer to your service contract.
How to return goods in dispute?
If you have opened dispute, and it is waiting for you to return goods, please return goods in 7 days (vary based on different countries, please check information on the Dispute email). Step 1: Please pack the goods with original package to make sure that it won't be damaged in transit. Step 2: Check the return address on Dispute email. Step 3: Mail the goods with a traceable logistics. Step 4: Submit tracking number and logistics information to us.
When will I get my refund?
Please take it easy that the fund is guaranteed as DigitPro knows how important your money is and we make sure that the refund is handled accordingly.
Usually, it takes 3-22 business days, varying with different banks, for buyers to receive the refund after the refund is successfully processed by DigitPro.
You may check the order details in account dashboard to confirm whether the refund has been successfully processed, please feel free to contact your bank to follow up the Refund status.
The method of the refund relies on the method of the payment. For instance, if you used credit card to pay, the refund will be processed to the same card with which the payment was made.
Do I have to pay for customs and import taxes?
You may be charged customs duties and taxes for something you bought on DigitPro.
Because:
Duties and taxes are typically not included in the price of the item and might not be included in the overall shipping costs you pay.
When shopping on DigitPro, most of our warehouse are overseas. That is why sometimes you will be asked to pay customs duty.
The taxes may depend on where your order was sent from, the type of items you bought, their value and the weight of the package. Different countries may have different tax policies regarding specific products. It is always best to confirm this with us or your local customs authority. You are responsible to clear VAT on all purchases made on DigitPro. This can be done through the VAT clearance procedure of your local customs authority in your country of residence.
Please note: Customs duties and taxes are never covered by DigitPro.
To avoid any unforeseen surprises, please pay attention to the following:
Ask us if you need to pay any additional import duties, taxes or other customs-related charges.
Contact your local post or customs office to find out more about your country's customs duties and taxes.
Import duties, taxed or other customs-related charges are normally collected by the shipping company upon delivery.
We are not responsible for delays caused by the customs department in your country.
Additional costs or delays may occur during international trade.
Some goods are offered for domestic delivery. This means that we will send your order from a warehouse in your country. In this case, you will not be asked to pay for any additional customs duties and taxes.
What are supported shipping methods on DigitPro?
The shipping methods vary depending to the country and the goods, you can choose shipping method while placing orders. If you have doubt about shipping method, you are advised to contact us for more shipping information.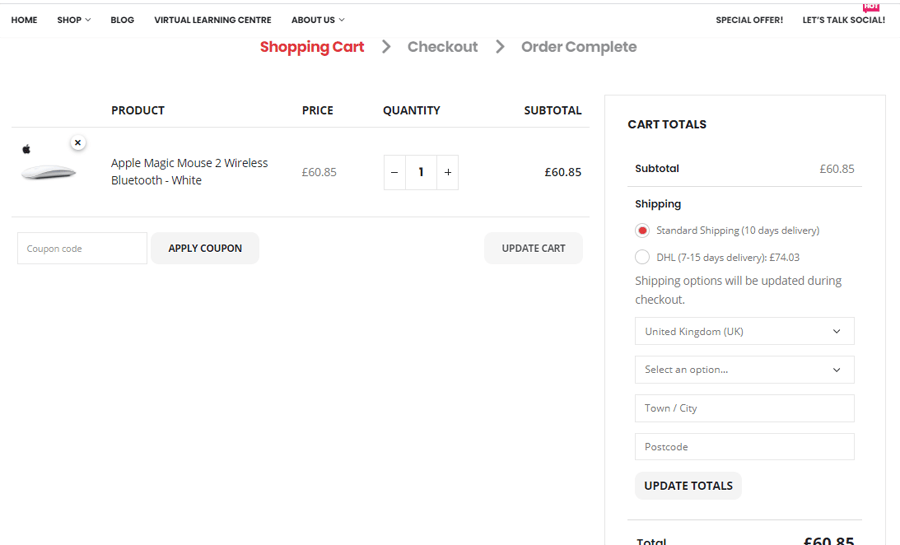 Currently we use from the following express shipping options: UPS, FedEx, DHL, TNT, EMS, TOLL, e-EMS, ePacket, China Post Registered Air Mail, China Post Air Parcel, China Post Ordinary Small Packet Plus, Hong Kong Post Air Mail, Hong Kong Post Air Parcel, Singapore Post, Swiss Post, Sweden Post, Russian Air, Special Line-YW, DHL Global Mail and S.F. Express etc. View our shipping policy.
What if the package is held by customs?
Buyer is obligated to do the customs clearance, please contact the local customs to know the detained reason first:
Importing tax/document is required. Please pay the tax/provide the document for customs clearance.
Document from seller is missing. Please contact us to get the required document, and then clear the customs.
Our eLearning Technology
While there are several open-source Learning Management Systems (LMSs) available today, Moodle is our preferred choice because of its rapidly growing presence. Moodle is also the choice of global community of professionals and educators. Moodle's extremely customisable core gives us the flexibility to address our client's diverse requirements, and its robust open-source learning platform takes away any dependency to one software house. The most important part is that as a user you don't need to download any software or application to use the site. The site work fine on internet and mobile. However, for better mobile user experience you can download Moodle's App free from Apple App Store or the Google Play Store, Once installed, open the App. …enter the campus address https://www.lms.digitpro.co.uk/ and then enter your username and password and start using the App.
Royalty Free Image:
Royalty-free images are a unique category of images that come with a license. Businesses can purchase a license for a one-time fee and use their chosen image as many times as they desire. The perk of royalty-free images is there isn't a need to renew the license for the photo once you've purchased it. Royalty-free doesn't mean that the buyer has exclusive rights to the image, but that other businesses and individuals — or anyone who purchases the license — may choose to use the image in their work as well. You may choose to alter the image to make it more on-brand, such as adding fonts or other illustrations and design accents. These images also don't require attribution to the original owner, which is helpful if you're working on a presentation or social media campaign. If what you are looking for, is not in this page, please contact us so we will be able to provide you with the support you need.