SEO stands for "search engine optimization." It is the process of getting traffic from the "free," "organic," "editorial" or "natural" listings on search engines. In other word SEO is the technical process of engineering web pages gaining quality links from other website in an effort to acquire top positioning on the web's major search engines and directories. Until recently, it was also one of the cheapest methods of online promotion, as getting indexed with the major search engines and directories was completely free. This is still largely the case, although getting high rankings has become far more difficult. It is for this reason that many online marketers have adopted 'pay per click', 'pay for inclusion', or even 'pay for consideration' services that have been introduced by most of the major services. This means they guarantee that within a specified period of time, an organisation's web page will be included in their index. Even so, with these guaranteed paid-for models, they do not guarantee that any priority will be given in the index, i.e. if web pages are not optimised for search engines and directories, then an organisation could actually be paying to sit virtually undetectable with a very lowly ranking.
As an internet marketing professional, it is important to have good background knowledge of the rapid growth of search engines and the development of information retrieval technology on the web. A basic operational knowledge of HTML is also required for a better understanding of web site optimisation techniques.
Advantages of SEO:
Relatively cost-effective
The cost of SEO is relatively fixed, independent of click volume.
It can also offer a highly targeted audience – visitors.
Disadvantages of SEO:
Making your pages visible require specialist knowledge, constant monitoring and the ability to respond.
Lack of control
You may be prevented from competing on a level playing field.
In competitive sectors it may be very difficult to get listed in the top few results for competitive phrases.
Lack of visibility makes it difficult to make a definitive business case for SEO
It is nevertheless impossible to predict and guarantee positions and click volumes from SEO.
For a given investment of £1, $1 or €1 it is difficult to estimate the returns compared to paid-search, or indeed traditional advertising.
Technical constraints may also limit your SEO capabilities – for example, if there is not the right IT resource, knowledge or technology available to implement the changes to site structure and content mark-up needed for SEO.
Best practice in SEO:
SEO is a long-term strategy. To identify the correct investment requires a long-term cost/benefit analysis. If this doesn't occur, SEM strategy is often imbalanced in favour of SEO. SEO is not purely a technical discipline to be conducted by a specialist team or agency. It requires a different style to traditional copywriting which requires training of content owners and reviewers.
Choose the best keywords
Always use the Title tag
Write a good Meta Description tag
Use your keywords in appropriate places
Address structural issues
Validate your HTML
Check your links
Submit your sites to the best directories
Develop a good link building strategy
Monitor and improve
Internet Marketing Course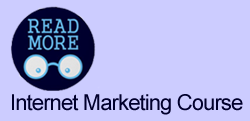 Our Internet Marketing Course with its hands on approach is designed to not only give the learners an in-depth understanding of internet marketing but also it will equips them the skills necessary to deliver the job. The course will address the use of internet media to deliver all the marketing functions (promotion, advertising, interactive communications, market research and developing customer relationships).
Join our Internet Marketing Course for a full and comprehensive training.