Video marketing tactics to boost viewership, over the last few years, the popularity of videos has risen significantly as people spend more and more time on their phones. In fact, from 2019 to the present, there was a 19 percent increase in the time that an average person spent watching videos. While you could say that it has been a result of the global pandemic, but this is one trend that is here to stay.
As the consumption of video content increases, you cannot deny the power that an explainer or tutorial can have on a viewer. Due to the high demand, there are a lot of companies which have and continue to take advantage of video marketing to attract consumers and spread brand awareness.
Since the competition is getting tougher with each day, you need to catch the eye of the consumer instantly with your videos. In order to boost viewership, you can try out these video marketing techniques.
1: Share Or Post Videos Regularly
When it comes to posting the videos and sharing them on social media networks or websites, you need to be consistent and regular. If you want your audience to remember the message and ultimately make a purchase, you should scheduler your posts accordingly. With a calendar or schedule, it will become easier to keep the audience interested and engage them effectively as well.
As a marketer, you can post short videos to announce a new product or a revamped brand identity design. Even if you don't have a brand identity yet you can easily get one from a free logo maker software. So, for example, in case you are changing your brand campaign or launching a new one, you can create an entire campaign by building up to the big launch with branding.
This way, you could get a higher return on your investment and attract a wider customer base successfully. It will also boost the viewership of the videos as people are likely to return for more information or updates.
2: Add An Appealing Thumbnail
Now, this is very important as a thumbnail helps create the desired impression about the video and encourages people to watch it. With YouTube and Facebook, you can choose a relevant thumbnail while posting your video so that the viewer gets a clear idea of it before continuing further. It is important that you avoid confusing shots or images which turn away consumers and they move towards something else.
In order to boost the viewership, you should use thumbnails that are high-quality and attractive from the first glance. There are a lot of brands and individuals who manage to gain more consumers by adding thumbnails that catch the attention instantly and make a positive impression as well. Take a look at Dior Makeup's channel and go through some of the featured videos.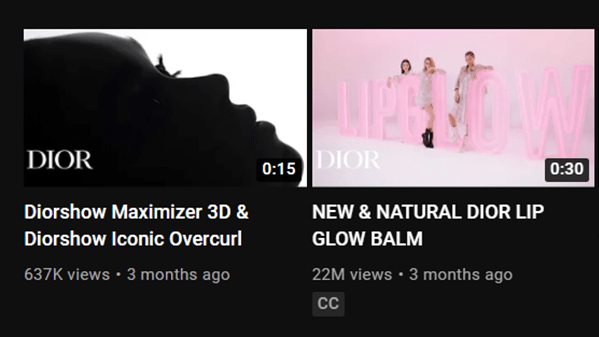 Image Source: Dior Makeup
The brand has incorporated appealing images to attract a high number of viewers and get people to click or tap on their videos. It can actually make a huge difference and increases the ranking of the video in searches too.
3: Focus On the Right Platform
As is it with marketing, you need to focus on the platform or channel which is frequently used or visited by your target audience. For social media networks, you need to figure out where your potential customers are found and the type of video content they watch regularly. It has been established in a study that around 32 percent of users between the ages of 25 to 34 are found on Facebook. While Instagram is one of the most popular network among teenagers.
Given that most of the platforms today have the live video options, a number of marketers and brands choose to interact with their viewers in real time by live streaming. These videos are usually in collaboration with an influencer or expert for an interview session. Sometimes, you can also go live with a demonstration or tutorial which can attract a lot of viewers and increase following of your brand as well.
Take a look below and you will see how marketers can catch the eye of their target audience by focusing on specific platforms and using the right strategy.
Image Source: Smart Insights
While 43 percent people do not watch live videos, there are almost 50 percent viewers who actively follow the option on Facebook and Instagram.
4: Incorporate A Share Option
If you want people to find out more information and increase your viewership, you can add a button that allows them to share the video directly after watching. There are a lot of platforms which support this action and can make it incredibly easy for consumers to share on social media networks or various blogs as well.
When people watch an exciting video about a new product or an explainer, they may want to share it with their followers or friends. By incorporating this option in your video, you can save them time and gain more viewers too. Sometimes, you will also come across videos with a call-to-action (CTA) that encourages people to visit the website of the business or product pages.
This way, marketers not only promote the brand or business but also increase conversions with video marketing.
5: Create an engaging story for best video marketing result
With time, the attention span of viewers is getting shorter. As there is a lot of content and competition, you need to focus on the initial 8 to 10 seconds of the video. This is where you hook the viewer and create a story that convinces them to watch until the end. A number of brands have done this over the years and managed to create viral campaigns.
Apple, Burger King and Nike are some examples of powerful video marketing where the companies have put out meaningful or witty ads which reel the viewer in from the beginning. The tech giant rolled out an emotional video for its Christmas ad in 2018. It featured an animation that stressed upon the importance of creativity and positivity.
Similarly, Nike created an impressive video where they shared real life stories of their employees within the corporation. By creating engaging stories and hooking the viewer in, you can successfully improve the number of views on your marketing videos.
Final thoughts for your video marketing
There are many types of short and long form videos that you can use to increase brand awareness and make people familiar with your products or services. However, if you don't focus on gaining more views, your campaign may not bring the desired return on investment. By applying some of the techniques given here, you could boost the viewership in video marketing and gain an edge over your competitors. At the end, you should focus on putting out videos with engaging visuals and relevant information that hooks people in and offers something meaningful.
Article by Kris David
A student by day and a wordsmith by night, Kris David works as a freelance blogger. He is currently pursuing a degree in Communications and relying on his freelance gigs to jumpstart his career in journalism.