Yoga is not just a physical exercise; it's a holistic practice that encompasses the mind, body, and spirit. For sportswomen and yoga enthusiasts, the right apparel plays a crucial role in enhancing their practice. One trend that has gained immense popularity is the use of yoga jumpsuits crafted from a blend of Nylon and Spandex, coupled with moisture-wicking technology. In this article, we explore the numerous benefits of incorporating these innovative jumpsuits into your yoga wardrobe.
1. Comfort and Flexibility:
The Nylon-Spandex blend is a winning combination when it comes to comfort and flexibility. Nylon provides a soft and smooth texture against the skin, while Spandex adds stretch and elasticity, allowing for a full range of motion during yoga poses. This ensures that your jumpsuit moves with you, providing optimal comfort and flexibility throughout your practice.
2. Moisture-Wicking Technology:
One of the key features of these jumpsuits is the incorporation of moisture-wicking technology. This technology actively pulls moisture away from the body, keeping you dry and comfortable even during the most intense yoga sessions. As you engage in dynamic movements and sweat, the fabric works to regulate your body temperature and prevent the discomfort of clinging, damp clothing.
3. Breathability:
Nylon and Spandex are both breathable materials, allowing air to circulate freely, keeping your body cool during strenuous workouts. This breathability is essential for maintaining comfort, especially in heated yoga classes where temperatures can rise significantly. The jumpsuits promote ventilation, preventing overheating and helping you stay focused on your practice.
4. Streamlined Design:
Yoga jumpsuits crafted from a Nylon-Spandex blend often feature a streamlined design that hugs the body without being constricting. This not only enhances the aesthetic appeal but also eliminates the distraction of loose fabric, allowing you to concentrate on perfecting your poses. The form-fitting nature of these jumpsuits provides a sleek silhouette, boosting confidence and ensuring a polished look in and out of the studio.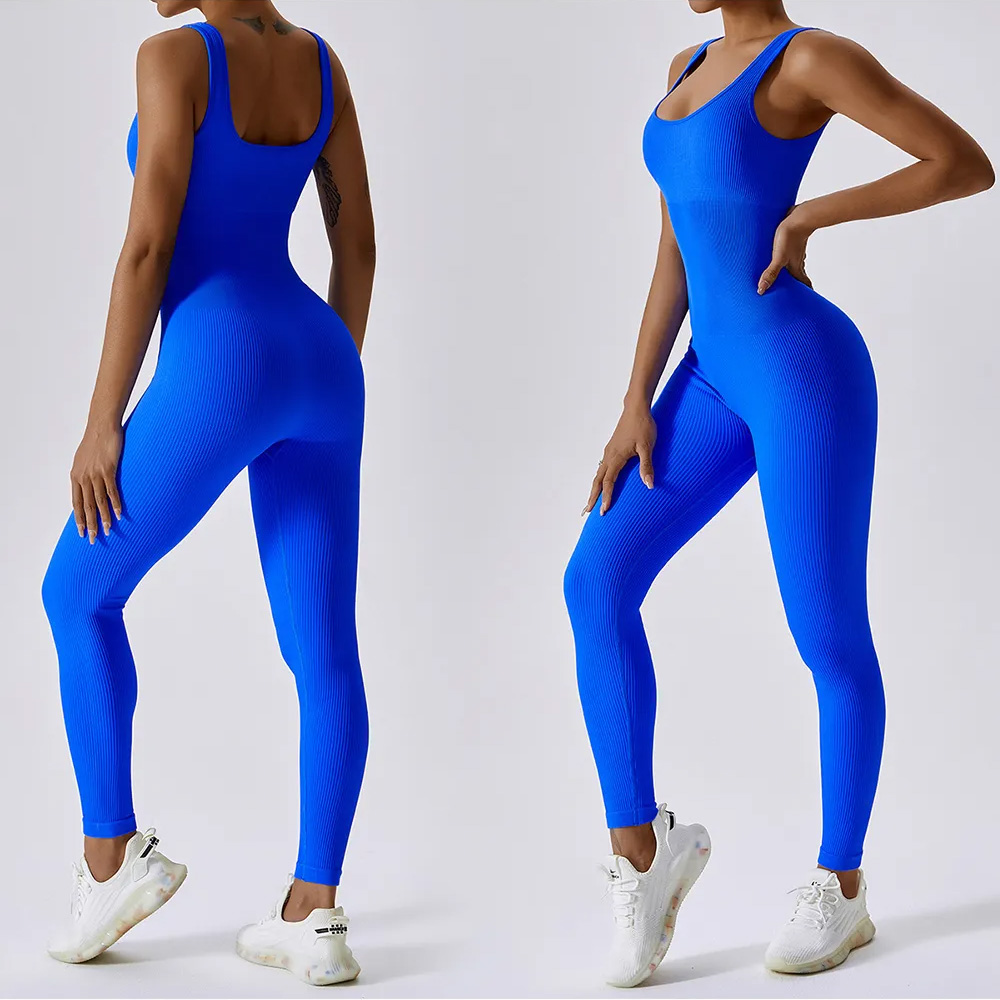 5. Versatility:
The versatility of Nylon-Spandex jumpsuits makes them suitable for various types of physical activities beyond yoga. Whether you're into running, Pilates, or general fitness training, these jumpsuits provide the ideal balance of comfort and performance. Transition seamlessly from one activity to another without needing to change into different workout attire.
6. Durability:
Nylon and Spandex are known for their durability, making these jumpsuits long-lasting and resilient. The blend resists wear and tear, ensuring that your investment in quality activewear pays off over time. The jumpsuits maintain their shape and elasticity even with regular use, offering a reliable and durable option for your active lifestyle.
Anyway, investing in a Nylon-Spandex blend yoga jumpsuit with moisture-wicking technology is a game-changer for sportswomen and yoga lovers alike. The fusion of comfort, flexibility, breathability, and durability creates a versatile and performance-driven piece of activewear that enhances your overall yoga experience. Elevate your practice with the perfect blend of style and functionality – embrace the benefits of the modern yoga jumpsuit.