I was 14 years old when the war in Iran started back in 80s. Even though I was one of the lucky ones who were not affected directly by war and my parents managed to send me to Sweden few years later in order to be saved, I consider war a horrible event and wish no human would ever need to live this horror. That is probably the reason I have always been anti war. It is sad to see some people still see war as a option and can't solve the problem with dialogues.
However when I think about things that shaped my personality I probably have to go many years back, perhaps to the time I was born. I was born in the winter of 1966 in central of Tehran as the third child to a middle class family. My father 32 years old man who was from a wealthy landlord family from the north of the country but had lost all his land three years earlier in the government lands reform, worked as a surveyor in a road construction company and my mother at the age of 22 had her own hairstyles saloon and worked from home. The first few years which I don't have any memory from it, as my parents said it was a little bit difficult as they didn't have much money and both of them working to save in order to buy a house. As the country's financial situation thriving so did my parents situation changed and they managed to purchase thire first home in East side of the city in a neighbourhood called Tehranpars.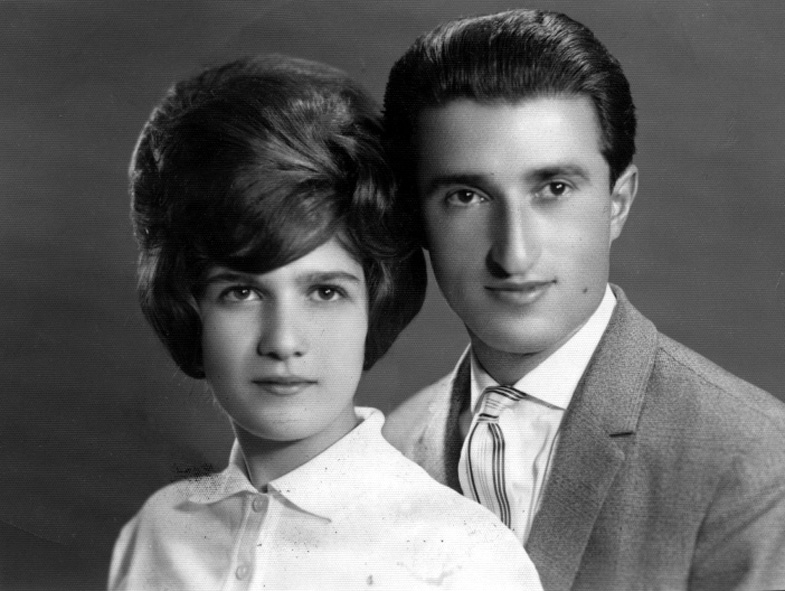 My parents in 60s
Tehranpars was built according to a project in the Pahlavi era in order to keep pace with Tehran's rapid growth. It is surrounded by planted forests of Sorkhe-hesar and Lavizan. The name Tehran Pars literally means "Tehran's Persia" as many Zoroastrian families used to live there and still some of the Zoroastrian centers of Tehran such as Rostam-bagh and Markar Complex are situated there.
I was around 3 or 4 years old when my parents purchased the house and that is probably my earliest childhood memory playing in the small yard in the front of the house whilst my mother was gardening. The house was low-rise in one floor and a basement, the streets were narrow, and we had access to the houses from both front and back street. All houses were built in rows very similar to each other which I think most of them was built by the same company. As the neighborhood was new built and not very expensive it had attracted mostly young middle-class families who many of them worked for government or related service industry that was booming at that time. It was a perfect place for a child to grow up as it was surrounded by planted forests and easy access to the parks and not very crowded as it was a little bit outside the city, so we had plenty places to play. The main street was divided by four squares called 1st, 2nd, 3rd and 4th Falakeh which at that time it was almost empty after the 3rd Falakeh only a public swimming pool which I loved it, and we use to visit it in summer time with my siblings…