Keep up with the rapidly changing trends in B2B technology firm's digital marketing strategy in today's digital age:
According BusinessWire The global software products market is expected to grow from $930.93 billion in 2020 to $968.25 billion in 2021 at a compound annual growth rate (CAGR) of 4%. The market is expected to reach $1493.07 billion in 2025 at a CAGR of 11%. Businesses across all industries can benefit from making use of software to streamline their business processes.
As the market for software continues to grow, so does the demand for skilled and experienced software marketers and salespeople. Today, I'll look at how to create a B2B technology firm's digital marketing strategy to drive your software revenue and show you how you can increase your company's chances of success in this competitive industry.
It does not make any difference if you are a B2B technology company, have just started, or are well known in the industry, you will need an effective marketing strategy to bring in traffic and convert them into leads. Knowing your target market is essential when you're making marketing decisions – it will help you manage customer expectations, create a specific brand image, impact decision-making criteria and will also make your advertising decisions easier. In today's market marketing professionals need to be well-versed in many skills, including developing strategies, content writing, email marketing, social media and more.
When you're marketing, there are many different aspects to consider. You could do tactics that are cheap but high risk or go for tactics that are high reward but more expensive. The best way to know which tactics work for your business and which ones don't is experimentation. What works for one business might not work for another and vice versa. Start with a couple different types of tactics and figure out what kind of results you're looking to get from them. Marketing is a critical piece for any business and when it comes to B2B technology firms, customer acquisition is key. There are many strategies that can be employed in order to successfully reach and engage with customers.
Here are some ideas to create an effective inbound marketing campaign that brings site visitors, converts them into qualified leads, and then turns them into new clients.



1. Determine what kind of B2B company you are.
The principles of marketing for an established software company are a bit different than the principles of marketing for a start-ups company. Start-ups B2B companies typically have a small, lean team and disrupt an industry as they grow. These start-ups are fast paced as they have to work hard to stay on top of their market. Marketing for start-ups is not easy. You usually have limited funds and you're competing with larger, more established companies. Sometimes, you may even be up against the giants of Silicon Valley. The good news is that marketing for a start-up can be done on a shoestring budget with some creativity and thoughtful execution.
Anyway, a SWOT analysis is a great first step toward knowing your business, team, and products better. It's a good starting place to think about all the things that could help or hurt your company.
2. Determining the major buyer personas for your target audience.
Building a loyal customer base takes work and it starts with determining the right market for your product or service. Find out who you should be targeting and who may want to buy or use your services. Before you market your product or service, figuring out who the target audience is, what they are interested in, and what type of message will capture their attention can improve your marketing strategy.
The second step in a good marketing strategy is to create buyer personas, because they help you imagine what your ideal client looks like and understanding their needs. For example, a person who is considering buying your service or product could be a Health Services Manager or a Private Bank CTO or perhaps an Ecommerce Owner, each of these buyers will have their own separate needs, objectives, and obstacles. Outlining your buyer personas will make it a lot easier for you to create content to pursue them. It is important for your marketing team to know the personas of those they are targeting. This will give your content and campaigns more context and help you to be more effective at getting the results that you want. Create internal documents to fully break down each of your buyer personas. You can research the market and use data from your existing customers and quality predictions to come up with a strategy.
Ultimately, creating buyer personas will better help you understand what makes people buy and what may make them hesitate. It'll also help you precisely target your ads. When done right, these personas will provide insight into what customers need or want to make a purchasing decision.



3. Understand your target audience buying process and produce buyer journeys.
The goal of a buyer journey is to better understand the motivations and emotions that drive a customer towards a purchase. The process also helps to understand what stops them from completing their purchase. This is beneficial because it helps marketers create marketing strategies for these customers by understanding what they want.
In order to produce a buyer journey, marketers need to get inside the head of the customer and map out the steps from the first point of contact with a brand until they make their purchase decision. This can be done by looking at specific aspects such as hope, anticipation, disappointment, frustration and more. This information can help marketers tailor their marketing content in specific ways that are not only more appealing but also most relevant for each customer's specific needs.
Once you have developed your buyer personas in your B2B strategy, figure out how each person learns and what would prompt them to make a purchase. Meet your target customers and ask them about their obstacles, objectives, duties, and concerns before they became a customer. This will not only give you a better understanding of what they're looking for, but it'll also encourage them to buy more from you as well! The typical customer goes through three phases: 'awareness', 'consideration', and finally 'decision'. Knowing where your target audience is in this journey can help you create more targeted content to meet their needs. Well, this is a little complicated. The customer may skip a step or move one step back or they could even go all the way through the journey before realizing they were solving the wrong problem. Back to square one…, so, when you're planning out buyer journey and marketing strategy it's important to keep in mind the different variables and potential pathways customers might take. You will be better able to communicate with customers when you know what stage of the buying cycle, they are in. Anyway, when you're creating buyer journeys, ask yourself a few questions. For example, is the prospect facing obstacles? What are their challenges? What solutions can you provide to address these issues? What would make your prospect want to buy your product instead of the competition's? What do these other companies offer that you don't? If your content does not answer these questions, it will be less effective in converting visitors into customers. So, you should start creating a content strategy that tackles those questions now.
4. Identify the marketing goals of your technology firm.
For a software company, marketing goals may vary depending on the size and type of the company. For example, a small start-up company's marketing goals may be to reach out to target audience and create awareness while a large multinational corporation's goal may be to maintain their market share.
Marketing goals can be classified into 3 categories: Awareness, engagement, and conversion. The goals are not always in this order because they are not ranked in any way.
Awareness is about generating awareness for your product or service among your target audience. Engagement is about keeping customers engaged with your brand by using tools like social media, email marketing etc.; Conversion is about converting contacts into customers by using features like live chat support to make the buying process easier for them.
Before starting your marketing strategy, you should first determine your company's intent and what you want to achieve. This will let you know when to expect a return on investment (ROI) and whether or not your plan is working. The software market is always changing but stay focused on the things you want to accomplish. Competition & start-ups are great, but they can be hard to manage if you don't have any specific goals for them. Goals are also important in order to keep your business focused and prioritized. Make sure that these goals are specific, measurable, attainable, relevant, and timely — all of which should be written as SMART goals. SMART goals help companies understand what they should be focusing on and where they can outsource to save time. This will also allow them to find staff with the necessary skills so that the company can grow and succeed.
Remember to watch out for key performance indicators such as the number of visitors, the number of leads and how many end up converting. It is important to look for a reliable ROI tool before launching a marketing campaign. This way, you can measure the effectiveness of your efforts across all areas and get results sooner rather than later.



5. Find out how to build your B2B marketing team for maximum impact of B2B technology firm's digital marketing strategy.
The marketing team is a critical part of an organization. The marketing team is responsible for driving the overall marketing strategy, from building a brand to attracting a target audience to generating sales. The right talent can take an organization from being successful to being exceptional. And the best talent isn't just about recruiting and hiring – it's about developing and empowering them as well.
As much as we would love that our employees are perfect fits, sometimes they are not cut out for certain jobs or tasks. To maintain the efficiency of your workforce, it might be necessary to find someone new who can fill in those gaps.
Inbound marketing is a multi-faceted approach that requires a stake. For instance, a blog writer may find himself wearing the hat of social media manager. Here are some of the skills needed for inbound marketing: copywriting, blog writing, SEO, web analytics, conversion rate optimization and more. The marketing team is responsible for finding and attracting new customers. That's why it's important to make sure you hire the best people in the industry, who are specialized and at the top of their game. Ensure that your team is briefed to be on the same page. Ensure that all personnel are aware of the goals & strategies to carry out the plan.
However, smaller companies and start-ups may find it challenging to hire many specialists all at once. If you want to be able to win your software company's marketing plan but do not have all the necessary skills in-house, it is a good idea to contract out Inbound Marketing services from an agency that specializes in this type of work. Working with an inbound partner like DigitPro will save you more than 50% over DIY methods and guarantee that you get everything you need to make inbound marketing work for your business.
6. The content strategy should be created based on your intended audience's needs.
You should always start by defining the audience for the content, and there are many different factors to consider when defining the audience. For example, you want to figure out whether your marketing content is most suitable for influencing the final decision or educating the influencer. Certain audiences might need more of a sales-driven approach and others may need less promotion and more information. It is important to consider their needs, what they anticipate from your content, and how they will interact with it.
The content strategy should be created based on your intended audience's needs. This means that you should identify who your ideal clients are and what their expectations are for your content. Your site visitors go through various stages of the buyer's journey. Different content should be created for each of these phases.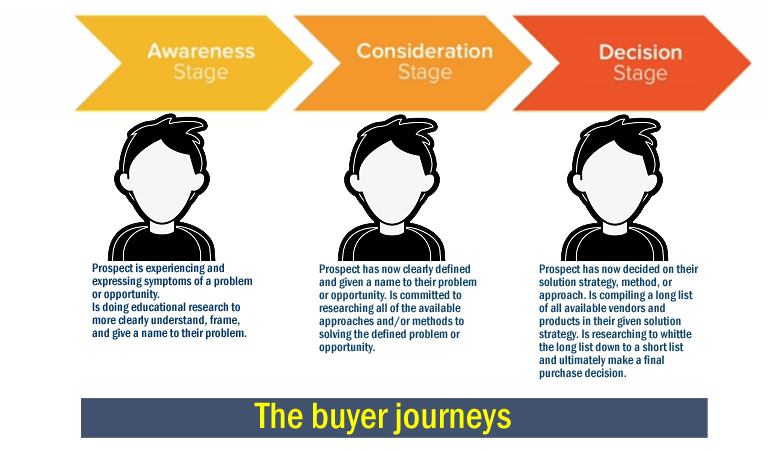 For example, during the awareness phase your Buyer Personas are more likely looking for information to understand the problems they are having. You want to show them what you can do to help them with their needs rather than trying to sell your technology solution. Content like infographics, blogging, or slide-sharing would be great for this phase.
In the consideration phase, potential customers are more likely looking for a solution to their problems. Here you can use your premium content to build trust and collect contact data from your target audience during this phase by giving them a useful eBooks or informational reports. However, it's important to keep in mind that you shouldn't share all your strategies or insights just yet.
When people are in the decision phase, they know their own needs and what options fit. They're looking for something specific. This customer persona is looking for best deals on everything ranging from services to products. Use content to inform them about advantages of your business and solution. Demonstrations and video, comparison charts, articles and case studies are all effective ways of doing this.
If you want content that will be compelling, focus on clarity and simplicity. Don't use jargon or fancy language. Avoid fancy wording! Your readers are looking for solutions & not pie-in-the-sky pieces. They want to know how it can help them, which is why you need to make your content engaging and easy to read. This way, they will enjoy what they're reading and more likely to become a customer.



7. The more that you educate your customers and build your following, the more well-known and competitive you will become in this marketplace.
Even though it sounds like your marketing plan & software are top-notch, you might be missing out on leads. People don't want to commit if they don't have enough info. One of the best ways to keep in touch with and maintain the interest of your prospects in between sales emails is by sending them automated lead nurturing emails. Email Monday's research has shown that around 70% of companies see higher ROI (return on investment) with email marketing.
There are many strategies to increase your email list, one of which is by having an opt-in form on your homepage. You might also consider giving away free materials such as eBooks or webinars to incentivise people to give their contact information. Social media and emails are also great ways for growing a list.
Let automation help you reach more people in a more targeted way. You can send individualized messages per customer to match their buyer persona and buyer journey using the automation tool in Pipeline CRM. You can send these emails out based on their actions. Maybe they signed up for a free trial but didn't convert. Make sure your subject lines and previews are engaging, so readers are actually opening the emails you send them. Make sure to take up one point in your opening line, so they can decide whether or not they want to invest their time soaking in the rest of the content. Try sending at different times of day or on different days, it's likely you'll see a difference.
8. Optimize your blog content to maximize traffic, is vital for B2B technology firm's digital marketing strategy.
A blog can be one of the most important aspects of your business's marketing strategy. Enhancing your blog posts is a great way to establish trust with your target market, increase search engine rankings, and drive more traffic to your site.
Creating high-quality content that is more than 1250 words can help your business rank better online. Different types of interactive content, such as podcasts, videos, infographics and polls might be a good idea to have in your marketing repertoire. Adding visuals to your website is a smart move and will help you to connect with customers. Make sure that your site is user-friendly and can display content on various devices.
Don't forget to include SEO. It's important that your article includes relevant keywords that are also being searched for by your customers. By increasing your chances of ranking with long-tail keywords, you'll get a more targeted audience for your content. Make sure to use phrases with little competition to get more followers on social media.
Your blog content is a great way to demonstrate your expertise in your field and bring in new clients. Create more content on your blog or site to encourage engagement. You can link back to your premium content like eBooks and one-pagers as well as include more links within your posts to boost traffic.
It's easy to get carried away when talking about yourself but remember that the blog should be all about the reader. The thing they should come away from a blog with is a feeling of knowing what problem you can solve for them. The more quality content you create, the more potential visitors will visit your website.



9. Enhance your social media strategy and target the right people with professional content.
The study from Business 2 Community found that a lot of people get information about organizations from social media. Having an effective social media strategy will allow you to engage followers with your content and improve the chances of turning them into customers. However, it's important to consider which social media is more appropriate for your target audience. You can't be on all social media at once, so it's a mistake to be on one with no plan or resources to manage it effectively.
Decide on social media post goals before you post. This could be to get more shares or likes. Share great content that deals with the issues of your target market. This could be photos, curated content, video clips or blogs. Don't forget to share! Social media doesn't necessarily mean spending lots of money. An effective social media strategy can also be about audience growth and engaging with your customers.
The use of social media is great for companies looking to grow. It lets you introduce your company and product quickly and persuasively, as well as lead people to your website where they can take the next step in getting involved with what you do. However, for many reasons, social media should not just be treated as a sales tool. Apart from being a useful tool for learning more about your target audience, it can also be a great way to build relationships with them. A good content strategy for social media is 80/20 rule. The 80/20 rule indicates that 80% of social media posts should be used to teach, entertain or show off your problem-solving skills. Only 20% should be dedicated to promoting your business. Give the very best of your business page's content some exposure by featuring it on your homepage. It's a free, small-lift campaign to show off your company to new audiences & encourage engagement.



The final word about B2B technology firm's digital marketing strategy.
The tips we've just discussed are part of a marketing strategy called inbound marketing. Inbound marketing focuses on how to make your site more enticing and convert visitors to leads. Inbound Marketing can give your B2B Technology firm a much-needed boost. This type of marketing has been shown to elevate the number of lead signups, which in turn leads to more customers.
It can be hard to do this alone, that's why we're here at DigitPro to provide you with all the necessary resources. From strategy to conversion, we are here to help you. We work together as a team in order for us to be able to provide the best services for you to implement your B2B technology firm's digital marketing strategy.
We've helped many marketing professionals with implementing inbound marketing. To see what we can do for you, schedule a free strategy session now to assess your current methods and find additional ways to generate more leads.