For any niche B2B enterprises entering the marketplace, their content marketing tactics have to be interesting in attracting their target audience with the great engaging content.
 The B2B buying cycle is long, compared to B2C, thus any key message in the content must have the ACIDA (Attention, Conviction, Interest, Desire, and Action) to influence the decision maker to buy your services over other alternatives.
Tactics on a limited budget
There are several content marketing tactics, which a niche B2B enterprise is in the start-up can make the most of with a limited budget, to achieve sales and for lead generation:
LinkedIn – begin your social media strategy with this social media platform, to develop a company page, join groups in which your target audience is in, and post regular content on the services of your niche.
Whitepaper – producing a whitepaper based on your services or product is easy to do, if you design software MS Publisher and Abode Reader, this tactic is easy to deliver.
Blog – the most crucial tactic of content marketing, which is a boost to your SEO; thus regular blog posts with links back to your website will boost your ranking on Google. In addition, the blog posts can form the basis of an e-newsletter.
Infographics – by using design software such as Canva, you can create FREE images to highlight the benefits of your business.
Video marketing – by using a smartphone or video app Periscope, develop content that would attract your audience through storytelling of a solution to a problem.
Repurposing your content
On the assumption, you have been creating blog posts as one of your main your content marketing tactic, why consider repurposing them into other forms of content after several months.
For instance, consider producing an ebook from your blog posts on a particular subject can an incentive for prospective clients for FREE to download if they sign up one of your next webinar, thus helping to build up enough leads for campaigns.
Even better, once achieved a considerable amount of profits in your first year, consider making a video from your blog posts using video making software Lumen5 or Vidnami – both these platforms offer affordable price plans to create great videos for your sharing on YouTube channel.
Video marketing is becoming a popular content marketing tactic with all businesses; however, if your business is niche, in the growth stage of the product life cycle, video can utilised if you're pitching to investors or as a part of crowdfunding campaigns.
Another advantage of videos is that you add them to e-newsletter to new clients, when they sign up to your service.
Podcasts is another great way of repurposing your old blog posts, as visitors will have something they listen to as part of their playlist and listen to again, again if it's a prominent topic.
Don't forget SEO
Every business wants their website on the first page of Google, with a niche B2B enterprise, some of the best tactics you must consider rank highly in the first year of business are:
Create a Google My Business listing
Setup Google Analytics
Generate and create sitemap
Select a good SEO plugin if your website on WordPress.org
Make sure your website is mobile friendly to begin with
Ensure all images have ALT tags
Taking into consideration the above SEO tactics, these can ensure that your content marketing effort become searchable in bringing visitors to your website activities and rank well on Google.
A Google My Business listing is a great way to make your business known and even better, it is FREE.
An environmental sustainability consultancy that specialising in EPC certifications can list themselves under building services on Google My Business, allowing them to show up on Google.
With addition of Google Posts, you can promote their latest sales promotions too on the listing too, thus increasing traffic to their website and boosting sales.
If you are concerned about monitoring the success of content marketing activities, then Google Analytics is going to be the best tool that you always want utilise most in your SEO efforts and even better, it helps you assess how to improve the content on particular webpages.
For instance, a niche corporate wellbeing clinic you would need to have their Google My Business listing done ASAP, as it helps potential clients found you easily on Google.
Having mobile friendly website is always going to be important, if your B2B niche you can allow potential clients to engage with content on the go or even make appointments via their smartphone – providing the website has that function.
With any images, always ensure that you have ALT text, in form of written description attached to them as it helps visually impaired readers and allows Bing and Google to crawl and rank your website.
If your website is on a WordPress.org platform, there are plenty of SEO plugins to help fully optimise your website. However, if your website is on Wix or any other website builder platform, an SEO tool is available and already built-in for your webpages.
As for a sitemap, this is crucial as visitors can easily navigate your website and it gives better visibility to search engines. Not only Sitemaps offer the opportunity to link search engines, enhance the ranking of a website in search engine results, thus boosting the SEO efforts.
A corporate wellbeing clinic will need to make sure that their sitemap always Services pages displays on the sitemap, as when visitors find their website, it is more than that is the first thing they search for.
To produce a Sitemap, some SEO plugins such as Yoast and WP Meta SEO by JoomUnited will generate one to submit to your Google Console to crawl your website.
For peace of mind, plan in advance
Once you have decided on the content marketing tactics, it is vital that you have an action plan of campaigns that align with your content marketing tactics. By using Excel Spreadsheet and Google Sheet as a calendar for your campaigns, you can share with your team; thus giving you and your peace of mind.
Why is planning advance beneficial? Well, Yogi Berra – American baseball catcher and Hall of Famer, who was renowned for his quotes and his baseball, had a famous quote on planning: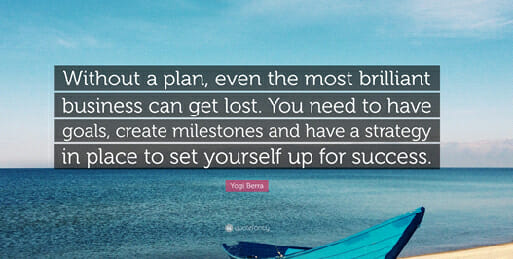 Source: quotefancy.com
Putting this into the context of content marketing, providing you set goals in line with a SMART formula and ensuring a piece of content applies to your target audience, you can be successful in delivering brilliant campaigns.
Final Thoughts
Whether you are creating videos or converting your blog post into whitepapers on niche B2B enterprise, providing your clients can read or see about the benefits of your product or service, in helping them with a solution, which can trigger a conversion.
With a building energy consultancy specialising targeting commercial landlords, the best content marketing tactics would be to reach larger commercial property landlords would be Whitepaper on information the "How to reduce your energy bills", along with a short video on their BREEAM Code Assessment service; plus create an infographic of how the service works.
In conclusion, spending on money on content marketing for a B2B enterprise does not mean spending thousands, all it takes is creative collaborations with internal stakeholders and thinking outside the box plus the determination to succeed.