Purpose- The purpose of this paper is to describe the impact of Iranian Globalization Policy Impacts on SMEs environment and the corresponding effect on Iranian-Swedish trade.
Abstract:
Macro-environmental elements have a vital impact on companies. Traditionally, the government in most countries plays a significant rule in shaping the macro-environment of the country. Therefore, various government policies and programmes are important for managers in analyse of the future threats and/or opportunities of the market. This paper investigating in Iranian globalization policy impacts on SMEs environment and international trade.
Methodology/design/approach- This study has focused on SMEs environment in Iran. The research has been conducted through desk research and semi-structured interviews with fairly open framework with senior management of 13 Swedish and Iranian SMEs all active in Iranian market with international trade. The research is based on theories in relation to PEST analyse, the Uppsala Internationalization Model and Export Modes and Intermediate Entry Modes. A qualitative approach was used as the study focus on the management perception and motivation in the internationalization process.
Findings- The data has shown that the country high political risk has been the main barriers to international trade. However weak management capacities, low labour productivity and failure of government implementation of its policy had had a major impact on trade reduction and SMEs environment.
Keywords- SMEs, Globalization, Iran, Government policy, and Macro-Environment
Country background
Government and Politics
Iran has a very complex system combined of modern Islamic theocracy and democracy. The Supreme Leader, who is considered to be the head of state and controls the armed forces, defence and is the main decision maker on all major foreign policy, is elected by a group of 86 clerics that make up the Assembly of Experts. Only clerics can join the Assembly of Experts and they are elected by the Guardian Council. The Guardian Council, which is considered to be one of the most influential bodies in Iran's political arena, is combined of six theologians and six jurists elected by the Supreme Leader. They have to approve all bills passed by Parliament. In Parliament, 290 members are elected by people every four years and they can introduce and pass laws. However, those laws have to be approved by the Guardian Council. In addition, Parliament can summon and impeach ministers or the president. The President, who is head of the executive branch of power, is elected every four years by the people. However, he/she has to be approved by the Guardian Council before election to be a candidate.
Figure: 3.1:1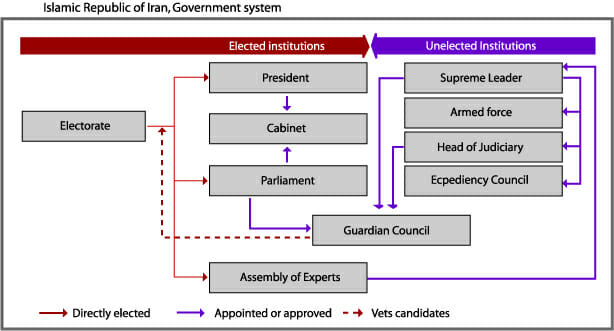 Source: BBC
Demographics
Iran, with a total area of 1.648 million sq km and population of 71 million, is the largest country in the Middle East.[1] With a median age of 25.8, it is considered to be one of the youngest countries in the world and with a population growth rate above 1.4 percent[2], it is one of the most expanding populations. This fact has become quite a challenge for its government as the country suffers from high unemployment. The challenge is not just to create jobs, but to provide this young population with education, health care, social services, entertainment and a sports facility. However, Iran's cultural ethnicity is not homogeneous as it is combined by Persian (51 percent), Azeri (24 percent), Gilaki and Mazandarani (8 percent), Kurd (7 percent), Arab (3 percent), Lur (2 percent), Baloch (2 percent), Turkmen (2 percent) and another 1 percent of misc. Almost all of them have their own language, however, Farsi is the most common language. This kind of cultural diversity has been challenging for the central government for many years, as some of those ethnicity groups required more local control and even independency from the central government from time to time. However, this diversity can even be very challenging for the marketer, as for many years Iran had been a central planning economy and most international marketers just needed to deal with the central government. As the country transitions to a market economy, even local authority has achieved higher status and more autonomy and much of local trade is regulated by local government and goods being purchased through local contacts.
| | |
| --- | --- |
| Figure: 3.2:1 | Figure: 3.2:2 |
|   |   |
…
Extracted from the paper "Iranian Government Globalization Policy Impacts on SMEs and the Corresponding Effect on Iranian-Swedish Trade" by Tony Zohari, Stockholm University School of Business
---
[1]  24 March 2008
[3] Adrian Kay, Economism and public policy, University of Bristol, UK, 2008
[4] Davud Danesh-Jafari
[7] Mr. Reza Abdollahi, Majlis (parliament) lawmaker, http://www.presstv.ir/  28 Jan 2008
[8] http://ec.europa.eu/trade/issues/bilateral/countries/iran/index_en.htm 24 April 2008
[10] http://www.presstv.ir/  20 Jan 2008
[11] Manouchehr Mottaki
[12] Mohammad bin Hamad Al-Rumhy
[13] http://www.presstv.ir/, 22 Jan 2008
[14] Mohammad Nahavandian, President of Iran's Chamber of Commerce, Industries and Mines
[15] Amid, J. & Hadjikhani A. 2005, Trade, Industrialization and the firm in Iran, I.B. Tauris & Co Ltd, pp 149