Joelle Gueguen is a French photographer based in Barcelona, Spain. She has been working worldwide in documentary, portrait and live music photography between Europe, the US and North Africa, for over 20 years. She has an impressive portfolio of work, having received a BA in Photography and Multimedia from the University of Westminster in London.
Her work has been featured in numerous publications and her photographs have been exhibited in various venues in Barcelona. She has worked for several clients and her photographs have been featured in various publications such as ABC (Spain), MTV UK (UK), ARISE magazine, ANTIQUARIATO magazine (Italy), VIBRATIONS magazine (France/Switzerland), and others. [1] She was also recently interviewed by DOCU ebooks among other photographers, to talk about her work for the Vol 12 edition of the Finish publication.
Photo series from: Sinestesia exhibition, Morocco, 2023
She was also selected in the WorldpressPhoto Storytelling project "Reporting change" in North Africa – that took place in Tunis-TUNISIA and Cairo-EGYPT from April to July 2013.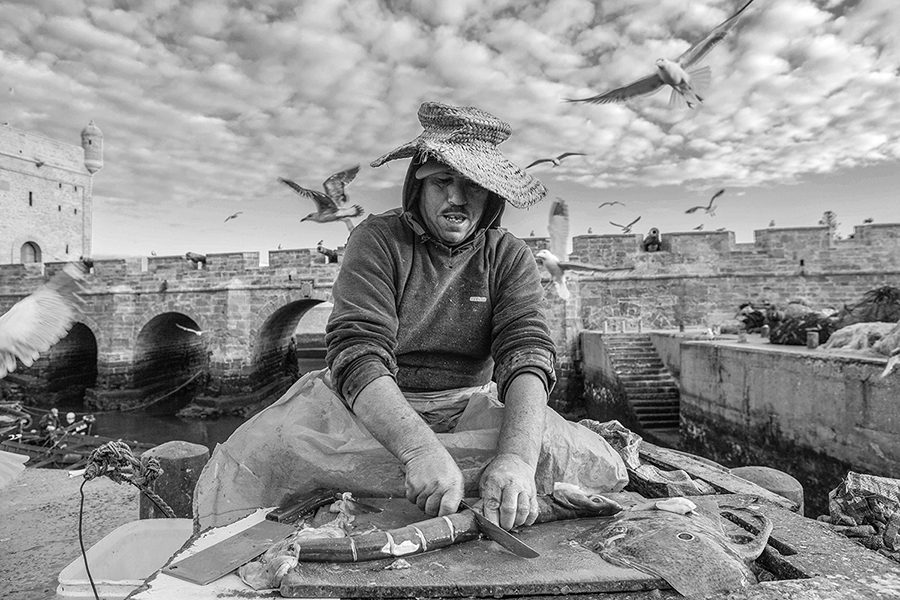 Photo series from: Sinestesia exhibition, Morocco, 2023
Currently, Gueguen is showcasing her work in Barcelona with an exhibition that showcases her unique vision of Morocco, with photographs shot over a period of time between 2010 and 2023 until 2nd April 2023. Through her images, she invites us to explore the country's diverse landscapes and people. Her exhibition provides an opportunity to appreciate her talent as a photographer and gain insight into this fascinating region of North Africa.
Gueguen's photographs capture the beauty of humanity and its diverse cultures. Through her lens, she tells stories about people from all walks of life, from traditional to urban communities. Her passion for photography is evident in her work which has been described as being both powerful and intimate at the same time.
Joelle Gueguen is an inspiring photographer who continues to capture unique moments that tell stories about our world today. Her work is a testament to how powerful photography can be when it comes to conveying emotion and telling stories that would otherwise go unnoticed or unheard of.
Joelle Gueguen
[1] CLIENTS AND PUBLICATIONS: ABC (España) – MTV UK (UK) – ARISE magazine -Antiquariato magazine (Italia) – VIBRATIONS magazine (FRANCE/SWITZERLAND) – Enderrock magazine (Cataluña) – Jaç magazine (Cataluña) – Folk magazine (Cataluña) – Sons de la Mediterranea -Tele 2 semaines (France) – Les Guides Music Book (France) – El Periodico (Catalunya)-La Revista dels Lluïsos (Barcelona – Revista Zirkolika – (Spain) – QUO magazine (Mexico)- TELQUEL magazine (Morocco) PARIS-PHUKET Magazine (Thailand) – NESMA magazine (Morocco) – Madame à Marrakech magazine (Morocco) Timeout magazine Marrakech, -Press photos for Muchachito Bombo Infierno (Barcelona) .Creation (with Guillaume Villalonga) of an educational and social B/W photography workshop for young illegal immigrants in the EICA Association (Barcelona) – – Press Photos for Napoleon Maddox- ISWHAT?! Band, Commissioned for summer festival documentary work by EthnoCatalonya,