Situational leadership is a model of contingency leadership, essentially the contingency theory of leadership is all about adapting a successful leader to the specific situation at hand. It argues that there are certain factors that make a certain style or leadership dramatically more effective. These factors include the task at hand, the leader's personality, and the composition of the group they are leading. The fundamental assumption is that leadership – success or failure – is situational.
Situational leadership focuses on the person and situation rather than one's position in an organization. The situational leader can be a mentor, coach, or facilitator. They are able to take the lead in different ways to promote the best outcome for both the team and individual members.
In order to be a successful situational leader, you need to be able to see how others work best and then help them achieve their goals. This will lead not only to more productive employees but also a more loyal workforce.
The situational leadership theory states that not all leadership styles are effective for every situation. It depends on the situation, type of task and the team which make one style more effective than others. Leadership mechanisms and styles come in a wide range of shapes and sizes, which means that the most effective ones will be different depending on the situation. Things like task type, group motivation, etc. have an impact on how leaders are best utilized to get things done.
What is Situational Leadership & How Do You Implement It?
Situational leadership is the art of adapting your management style to each unique situation or circumstance. It allows you to meet the needs of your team at every given point in time. The theory developed by Dr Paul Hersey and Ken Blanchard is often abbreviated as "Hersey-Blanchard Situational Leadership Theory."
From altering your leadership style to best suit an environment to understanding the people you lead, it's important for all leaders to be adaptive. Aspiring leaders should use this as a starting point for adapting themselves and mastering the art of leadership. This model is a great way to think about managing employees. It factors in their competence and commitment level, as well as the complexity of the task and how much direction & support they'll need from you.



What are the 4 Types of Situational Leadership?
Blanchard and Hersey's situational leadership matrix outlines four different leadership styles that can be applied depending on the situation.
S1 Telling: Leaders tell their employees what their task is and how to do it. Bosses use this type of management style to make decisions and communicate them to others. They create the roles & objectives at work, which other employees are expected to carry out. Communication is usually one-way under this management style which is effective during disaster situations or when repetitive results are required.
S2 Selling: Leaders provide the direction. They also try to convince people that their ideas are good and get them on board. These leaders may create roles and objectives for other people in the company, but they are also open to suggestions and opinions.
S3 Participating: Leaders acknowledge the importance of relationships and investment in their team. They share decision making responsibilities and use information to empower progress.
S4 Delegating: Most leadership responsibilities are delegated to the group, with leaders taking a less hands-on approach when it comes to decision making. They are monitoring progress, but are not deeply involved in regular decision making. They are responsible for their teams, but provide minimum guidance to workers or help to solve problems.
Stages of employee development.
The right leadership style will depend on the person or group being led. The Hersey–Blanchard situational leadership theory also identified four stages of employee development; leadership styles may be matched with stages of employee development. The Hersey-Blanchard model suggests that the following leadership styles are the most appropriate for these stages of employee development.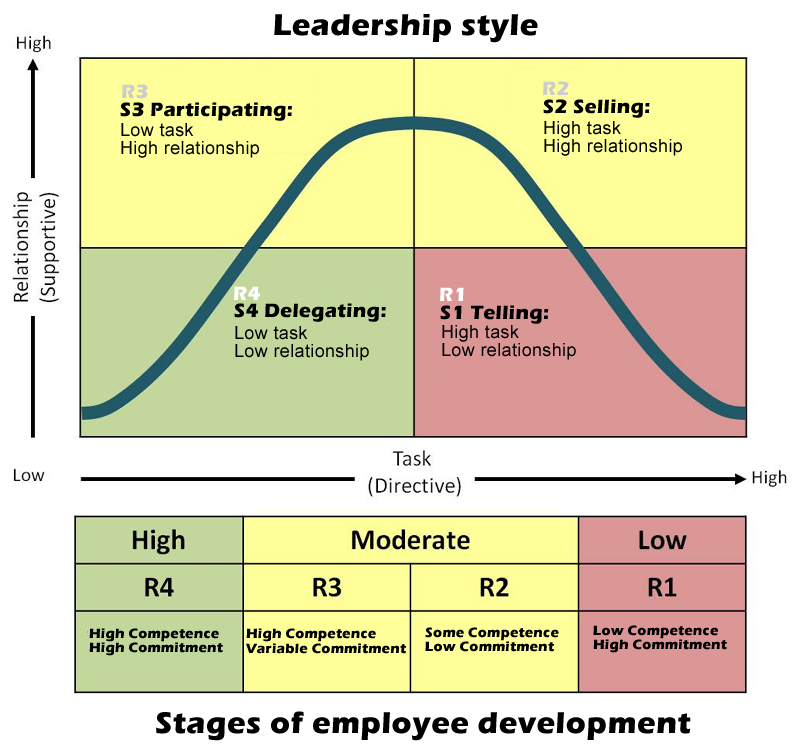 R1.      Low Competence: High Commitment (Telling leaders = S1)
R2.      Some Competence: Low Commitment (Selling = S2)
R3.      High Competence: Variable Commitment (Participating = S3)
R4.      High Competence: High Commitment (Delegating = S4)
When a team lacks the responsibility or knowledge to work on their own, you should have a "telling" style. As they become more experienced and knowledgeable, you may want to shift your style to a more "delegating" approach.
What are the Benefits of Situational Leadership?
Managers with Situational Leadership skills are able to make the most of an individual's strengths in order to get the best performance out of them. This way they can offer a more personalized leadership style.
Situational Leadership is effective when it comes to managing diverse teams that have different levels of experience, within different cultures, or in vastly different stages in their careers.
Situational leadership doesn't require any special skills. All you have to do is be aware of the situation & know the appropriate style to follow. This way you can take quick action to fulfil your employee's needs.
Situational leaders often keep in close communication with members of their team. This not only helps the team get on the same page, but it also allows them to offer support and success. They tend to form strong relationships with them in the process. As a result, it creates a better work environment in which employees feel valued as individuals and in most cases increase team collaboration and productivity.



(This article is part of team building workshop)
Recommended reading: