Local SEO for SMEs: If you are a local small business owner looking to grow your brand online, whether you operate a bricks & mortar operation or recently adapted to become a hybrid business – there is some SEO tactics that could help boost your local rankings.
Not only is keyword research important for your SEO, but also it is important your business location factored into your keyword strategy, as it is key part your local SEO strategy.
Given the number of SEO tools, you have your disposal it important to factor that them in your value proposition with business model to appease to all your customers.



Let us not forget making sure your website is responsive on all devices is important for local SEO, but I would delve more into other SEO tactics, which are essential in boost, your local rankings.
Tactics that suit all SMEs' local SEO
One of the most important one is Google My Business (GMB), (soon to be known as Google Business Profile) – there some SMEs out there that have not claimed or created a listing on GMB.
This was evident, when a client of mine that did not have this and soon claimed their GMB listing, having stressed to them the importance of this platform for their local SEO.
Just like Google Analytics, Google My Business does not cost a thing to utilise, and it is important to enforce this as soon as once your website goes live on search engines, dependent on your business you can get a verification code by post or mobile.
As one of most important a local SEO tactics, displaying some images of the company to let potential clients see what the business is like is good for your reputation.
Furthermore, it essential to list your business in right business category when creating a listing, to prevent confusion when people do a search for local businesses as you never know how potential leads you are losing in not having your business listed correctly.
Obviously marketing budgets could be tight, but when it comes to having an effective local SEO strategy your business can still compete with the larger well-funded brands.
Whether you operate a second-hand car dealership and competing against a large franchise car dealership or independent gym fighting local market share against large mid-market health club operator, there are some tactics that can help your business do well locally online without breaking the bank: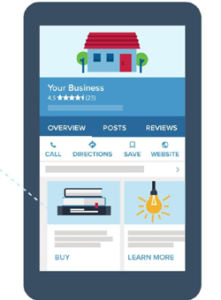 Google Posts
Whether you are solo entrepreneur or a partnership, utilising Google Posts on your GMB to promote your latest promotion or a blog post is going to benefit your local SEO strategy as it helps outrank your local and larger competitors.
For example, if your business is a therapy centre by utilising Google Posts on your GMB listing could prompt clients to take advantage of their latest massage promotion. For a food business, you could display your daily specials or next themed night at your restaurant.
Ensure N-A-P consistency
With N-A-P, it is an abbreviation for Name, Address and Phone number; in the context of your SEO, it means is that your name and address should be consistent across the web.
If you are wondering how important NAP is for local SEO well know this when it comes to optimizing your website and online presence – Google values accurate information for its users; hence make sure your contact details are up to date on your GMB listing
Utilise Google Tag Manager to track conversion
Now if your website has Google Analytics installed, it is time to make of it with Google Tag Manager. By using Google Analytics aligned with Google Tag Manager (GTM) it allows to track anything important – forms, downloads, email clicks, phone number clicks – track it, measure it, improve it – in the context of understanding which pages and traffic sources drive leads and sales.
Get listed on key local directories
This may sound obvious, but it is worth a lot when your company has a niche service or challenger brand that can benefit the local community.



Making sure your business is on a secure directory with a HTTPS, is a challenge for some SMEs, let alone finding ones that can guarantee traffic and leads. Nevertheless, if you see your business on a directory, that you did not sign-up to for just make sure you claim the listing as it can help improve your local rankings.
Listing your business on the local business Chambers of Commerce directory could help with your lead generation strategy and foster potential strategic partnerships with other businesses on local initiatives.
Voice SEO
Nearly everyone has a smartphone and use the voice app to search for local services, hence having local keywords factored in the website as part of voice search strategy into their websites and double down on excellent content, written in a conversational tone.
Let's not forget voice assistants – Suri (Apple Maps) and Google Assistant (Google Maps), are integrated with have the same value are going to be essential for when customers ask for key services via their smartphone or smartwatch.
Make it your goal rank no.1 on Google locally
If you have already launched your SEO strategy for 2022, then one of goals should be to achieve first page ranking on Google, with certain keywords that your target audience find you and are on your website
Most importantly, if you notice your website is not ranking by particular industry keywords – I would suggest creating content around in order to boost your local rankings, as it would help your website complies with Google's E-A-T and Page Experience algorithms.
In order to measure the success, set aside a day to check your Google My Business page; in doing so you be able to check on your ratings and reviews, plus you can benchmark your business alongside other local competitors in the same industry that might be affecting your website's performance.
To sum up, whether you are operating a chain of businesses in a city or just a sole practitioner; you will still need to have an effective local SEO strategy, especially if you want to increase your market share let alone be the best in local community.
[ux_video url="https://youtube.com/playlist?list=PLevvkRv_T_FGBTRfIlKu4INY26ltDHqKI"]